Premium Lifestyles are a Brisbane based patio builder offering stylish decks, carports and patios that will enhance your home. We offer a variety of custom build and functional outdoor patios and decks which are built to stand the test of time. We always offer outstanding value for money and our expert staff are ready to help you create a valuable addition to your home.
Design and Build Your Dream Outdoor Living Space
The Premium Lifestyles team have over 25 years experience in the building and fabrication industry. Our builders and tradespeople are experts in the design and building of stylish and affordable custom patios, timber decks, pool decks, roofing, verandas, pergolas, carports and weather board garages in the Brisbane area.
We offer outstanding service and value for money. Our craftsmanship is second to none. We build a wide range of options including simple more affordable structures. We also build the more complex and difficult designs.
Premium Lifestyles Brisbane will help you create attractive and functional outdoor home extensions. We are a Queensland builder and fabricator that you can trust to deliver the very best results and value for money. We really can make your outdoor living dreams come true!
We offer a wide range of services including the building and design of:
Patios Brisbane
Are you planning a new Patio for your Brisbane home? Patios give you easy access to your garden space and open the door to complete enjoyment of outdoor activities. Premium Lifestyles have over 25 years experience as a patio builder. Feel confident that our expert team can provide you the patio you always wanted.
We offer: Custom fully welded galvanised steel Brisbane Patios, Outdoor Patios, Pergolas, Timber Verandas, Pool Enclosures, Ultra modern Patios and Verandas, Rustic Patios, Gabled, Arched and Flat Roofs.
Deck Brisbane
Installing a Deck for your Brisbane home can expand your outdoor enjoyment and entertainment options. Decking can broaden your vistas while maintaining your privacy. It also provides new opportunities for elegant, yet casual entertaining.
We offer: Brisbane Decks, Timber Decks and Timber Decking, Backyard Decks, Pool Decks, Ultra modern Decks, Rustic Decks
Carports Brisbane
Carports protect your vehicle from the hottest summer sun and keep you dry in inclement weather.
We offer: Custom fully welded galvanised steel Single Carports, Double Carports (and larger) Brisbane Carports and Weatherboard Garages
Commercial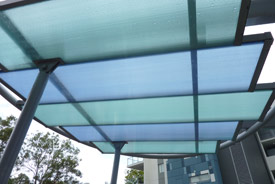 Commercial creative design and building options for premium commercial outdoor living spaces.

View the Commercial Gallery
Why Choose Premium Lifestyles
You can trust and rely on the expert tradespeople and builders at Premium Lifestyle patios. We offer a range of benefits including:
A 7 Year Warranty on materials and build
Over 25 years of building and design experience
Custom outdoor extension designs built on site
Outstanding value
Quality building materials
Expert craftsmanship and engineering
Trustworthy and reliable service
Regular updates on building progress
Outdoor living ideas and plans
Free in-home measure and quote
Ongoing special offers and care information
We also offer:
Unique Draftsman Designs and Architecturally Designed Garages, Carports, Decks, Verandas and Patios
Deck, Patio and Carport Roofing including Vinyl, Compact Polycarbonate, Multicell, Roof Tiles, Insulated Roofing (including Insulated Panels)
Galvanised Steel and Timber Structures
Brisbane Patio, Deck and Veranda Restoration
Simple Decks, Verandas, Patios, Garages and Carports
More complex designs and difficult builds including Commercial, Architectural and Draftsman Designs
Client Testimonials
Always on time, worked hard and displayed a professional work ethic..

I know that this job was not an easy site to work on, however your crew did a great job getting it done and communicating with me regarding any possible issues and resolving them. My wife and I a very happy that our design turned out so well. The deck looks great and now provides us with sufficient space to utilise this fantastic outdoor area.

The finished product is absolutely amazing!

,

I would like to start by saying you guys really live up to your name of Premium Lifestyles. What a professional honest company it really has been our pleasure dealing with you. We are so happy with the standard of carpentry and care taken we could see the guys really took pride in their work. Very polite and always confirmed exactly what we wanted before proceeding.

The finished product is absolutely amazing!

The construction and quality is outstanding!

,

"The team at Premium Lifestyles were extremely efficient with their project estimation, project management, delivery of product and quality management. It was great to enjoy a partnership with Premium. They shared the vision for our carport. Now we are over the moon. The construction and quality is outstanding!"

We are extremely happy with the final result.

,

You listened to our ideas. We were able to visualise and let you know where they may have been an issue with planning and execution. We were very impressed with your constant updates. We are extremely happy with the final result. Well done."
Contact Premium Lifestyles Patio Builder
The team at Premium Lifestyles will achieve results that you will love. We relish the challenge that unique properties can pose. We provide expert advice and design ideas.
Contact us today for a FREE design, and in-home measure and quote.
Click here to CONTACT US
Phone: (07) 3300 0507
If you would like us to call you to discuss your outdoor living ideas and plans click here. You can also message us through our Facebook page.
We are OPEN 7 DAYS and we service ALL Brisbane suburbs including Brisbane Northside, Brisbane Southside and all surrounding areas within 50km.