Premium Lifestyles are your specialist patio builders based in Brisbane. We build and design stylish Patios in Brisbane and the Gold Coast. Patios can enhance your home and allow you to enjoy a relaxed outdoor lifestyle. We provide rustic, simple, complex and ultra-modern designs and our quality materials mean your patio is built to last. When we design your patio, we take into account your budget and we always offer outstanding value for money.
Outdoor Patios offering Value for Money, Style, Quality and great Design
Premium Lifestyles are expert patio fabricators, builders and designers, and can also help you create:
Custom fully welded galvanised steel single, double (and larger) Carports and Patios
Enclosed Patios
Ultra Modern Patios
Rustic Patios
Patio, Deck and Carport Designs and Ideas
Pergolas
Simple and Affordable Patios, to more Complex and Difficult to Build Patios
Patios with Inbuilt Insulation, Lighting and Fans
Arched, Gabled and Flat Patio and Carport Roofs
Patio and Deck Awnings
Architecturally and Commercially Designed Patios
Patio and Carport Roofing including Vinyl, Compact Polycarbonate, Multicell, Roof Tiles, Insulated Roofing (including Insulated Panels)
Galvanised Steel and Timber Structures
Patio and Carport Restoration
Pergola Builders Brisbane
Let our patio experts show you how your pergola or patio design can merge structures and landscape into one luxurious living space. Call 3300 0507 or email us today for a FREE in-home measure and PATIO DESIGN.
Patio Roofing Options
We offer a variety of roofing options, especially created so that you can enjoy easy outdoor living with all the comforts of home:
Arched Patio Roof ∩
Freshen up your outdoor entertaining area with an arched or domed patio. Arched patios have become increasingly popular for those who seek unique and contemporary settings. The arched patio allows you to entertain in high style, giving a spacious feel to even a small patio area. The design of an arched or domed patio helps you and your guests keep your cool, as it shields you from harmful sun-rays and effectively reduces the heat with its elevation.
Gable Patio Roof ∧
A gable roof over your custom outdoor patio creates the ideal opening to a formal garden and is a traditional and effective way to make you and your guests feel right at home in the outdoors. Similar to an arch, the gable gives your patio area the feel of extra space while the high pitch of the gable allows the heat to rise and escape.
Flat Patio Roof —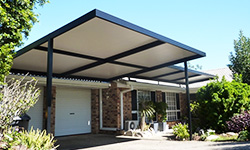 The simplicity of a flat roof patio lets you maintain a conventional patio design, yet may still add class and sophistication to your outdoor area. Choose the pitch of your flat roof, either towards or away from your house, to create either a modern or a rustic look in classic patio style.
Visit our Brisbane Patios Gallery
We invite you to take a look around our gallery of patios. Become inspired with great patio designs and ideas.
We have many more patio designs and ideas available in our full patio gallery. Click here to view the complete Patio Gallery.

Why choose Premium Lifestyles?
Experience
Premium Lifestyles are a leading Brisbane builder and designer that offers value for money and outstanding quality. Our team has over 25 years experience and we create patios, decks, pergolas, verandas, carports and weatherboard garages that help you transform your landscape into functional, stylish and appealing living spaces.
Expert Advice
Our expert team of professional trade and design staff have the knowledge and experience to conceptualize, plan, draft and build both simple and more complex designs according to your budget. Whether you need a patio or deck for outdoor entertaining, pool decking or a new carport, we can help you improve the value, functionality and livability of your home or commercial property.
7 Year Warranty
We offer a 7-YEAR WARRANTY and every one of our premium structures is built to last. Premium Lifestyles are OPEN 7 DAYS and service ALL Brisbane suburbs including Brisbane North, West, East and South. We also service areas within a 100km radius of Brisbane such as Gold Coast, Ipswich and Sunshine Coast.
Contact us today so we can create your dream patio!
Brisbane Building Approvals
Brisbane City Council has brought together all of the information that you will need to know if you want to construct or install a carport and/or a garage. This information includes preferred locations for your project, plus any constraints, exemptions or other approvals you will need.
In most cases, building a carport is considered to be a self-assessable development if your property is located in specific city regions or zones.
Self-assessable developments and projects DO NOT require Brisbane City Council approval and there is not need to request anything in writing from the council for approval to build your project.
You can see if you need approval for common residential and business projects by clicking here. Premium Lifestyles are more than happy to discuss any concerns you have regarding building approvals. Call us on (07) 3300 0507.
Contact us today
We'd love to answer any questions you may have regarding a new patio or an upgrade to an existing patio. Call us on (07) 3300 0507.